JMTS Technical Intern Trainee candidates are introduced only to those who can pass the First screening of Toshin Japanese Language & Training School.
After entering the school, through dormitory life and the homeroom teacher system, we understand the personality and characteristics of each student,and provide education that places the utmost importance on trusting relationships.
Purpose of Technical Intern Trainee system
The purpose of Foreign Technical Intern Trainee system is that transfer skills , technology or knowledge to developing countries, etc. so that Japan can fulfill its role as a developed country and develop in an international society.
The purpose is to corporate in "development of human resources" that is responsible for the economic development of the country.

(From Ministry of Health , Labor and Welfare)
It is a system mainly for technical training from Japan to developing countries. After 3 or 5 years of practical training in Japan, they return to their home country and utilize the skills they have learned to contribute to the development of their home country. It is intended to
By accepting technical intern trainees, the system also includes the purpose of contributing to developing countries.
Occupations accepted by the Technical Intern Training Program

They have 85 categories and 155 tasks now.

Agriculture
2 category 6 work
Fishery
​​2 category 10 work
Construction
22 category 33 work
Food Manufacturing
11 category 18 work
Textile/Clothing
13 category 22 work
Mechanical/metal related
15 category 29 work
In addition, furniture, plastic molding, painting, welding, building cleaning, nursing care, hotel, rubber product manufacturing, airport ground handling, etc.
Currently , there are a total of 85 job types
and 155 work types
reference : https://www.jitco.or.jp/ja/regulation/occupation.html
The system of Technical Intern Trainee Program
<Individual Conpany type>
Limited to cases where there are overseas branches or overseas business partners. We do not go through supervising organizations or local sending agencies.
<The group management type>
The group management type is to implement technical intern training through a no – profit organization (supervising organization)
The supervising organization manages and supervises the implementation of training by companies in the Technical Intern Training Program, and handles the applying for accepting foreigners and communicating with overseas companies on behalf of the company.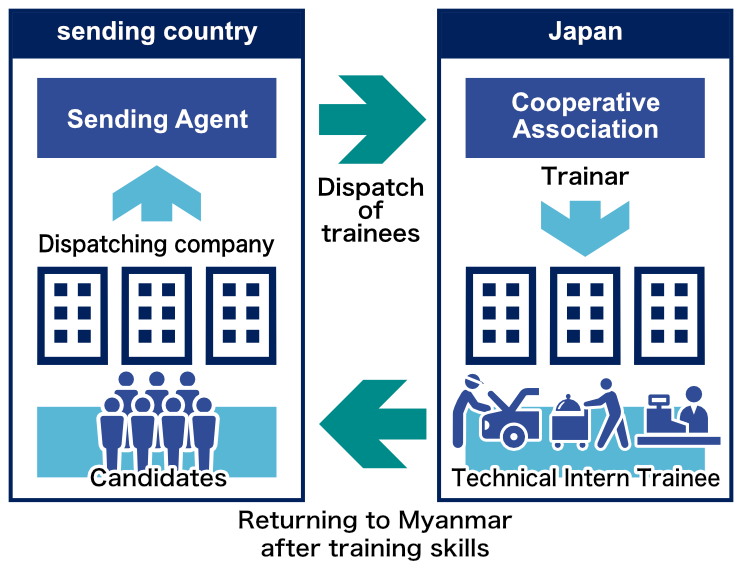 Flow until acceptance
1

Hearing
Hearing about Program "Technical intern Trainee or Specific skills trainee"
Make documents of acceptance plans and job demand in companies
The contract with Sending Agency in Myanmar and Supervising Organization/Support Organization in Japan
---
2

Candidate recruitment and Interview
Recruitment for Candidate
Based on the job posting, Recruit from students in Toshin Japanese Language & Training School
Interview(Online / Local)
Conclusion of employment contract
---
3

Apply for accepting in Japan
Technical Intern Training Plan Approval Notification to Organization Technical Intern Training (Japan)
Apply for a Certificate of Eligibility for Resident Status at the Regional Immigration Bureau (Japan)
Apply for Labor office in Myanmar(Myanmar)
Apply for visa in Japanese Embassy(Myanmar)
---
4

Education before arriving Japan
Language education at the same time as the application procedure
At Toshin Japanese Language & Training School, Candidate will take a lesson about Japanese / Culture/ Business customs/ Job training
---
5

Entry in Japan
After obtain visa from Japanese embassy , get reservation for flight to Japan
Pick up at the airport (supervising organization)
Trainig after entry in Japan.
training at the association's education center(About 1month)
Assignment (assigned to a company from the second month after entering Japan)
---
6

After assignment in the company
The supervising organization regularly visits the company
The support for foreign employees, such as government office procedures and bank account opening
Take a skill test before technical training No. 2 or later
(After 9 months to enter Japan )
If employees do not pass the exam, they will not be able to proceed to Technical Intern Training No. 2.
(There is no test for specific skills)
Application procedure for transition to technical intern training No. 2 and 3 (2nd year, 3rd year onwards)
---
*Foreigners can be accepted by supervising organizations related to JMTS.
Please contact us individually for detailed procedures and costs for acceptance.